Royal Mango Mewa Kulfi.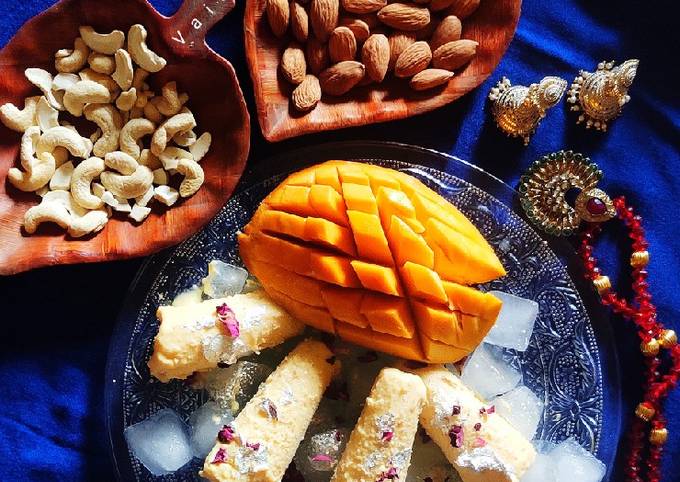 You can have Royal Mango Mewa Kulfi using 11 ingredients and 5 steps. Here is how you cook that.
Ingredients of Royal Mango Mewa Kulfi
You need 2 of Fresh ripe mangoes (I have chosen Mallika) (see recipe).
Prepare 1 cup of Homemade malai (chilled).
Prepare 1 cup of Milk powder.
It's 1/2 cup of Powdered sugar.
Prepare 1 pinch of Salt.
Prepare 4 – 5 threads of Kesar (mixed in milk 1 tablespoon).
It's 2 tablespoons of Roasted and coarsely ground almonds.
You need 2 tablespoons of Roasted and coarsely ground cashews.
You need 1 tablespoon of Dry rose petals.
You need as required of Mango slice to garnish.
It's as needed of Silver warq to garnish.
Royal Mango Mewa Kulfi instructions
First, chill all the ingredients for 1 hour. Then peel and slice the mango and cut in cubes. (see recipe).
Pour mango, milk powder, sugar, malai, salt, almond and cashew powders in mixer jar. Grind to a smooth puree. (see recipe).
Mix kesar milk and yellow food colour and blend again. Pour this in individual kulfi molds or in ice cream box and cover with lid. Secure with foil paper or cling wrap..
Keep in deep freeze for 6 hours. To remove, dip the closed molds in a glass of water for 5 minutes. Then loosen the sides with knife and gently remove on a plate..
Garnish with almond and cashew powders sprinkled on top. Sprinkle rose petals. Garnish with silver warq for a beutifull effect. Enjoy this royal treat..
I love Cooking… I am Professional Chef…